Market research for healthcare professionals
in Japan
What we do
Quantitative
Studies
Online surveys
We deliver over 2000 projects per year using only our proprietary panel.
Last year alone we achieved over 1000 cancer studies (including 70 hemophilia studies).
Consultancy and advice to ensure your survey is appropriately tailored for the Japanese market.
Qualitative
Studies
Focus Groups
In-Depth Interviews
Telephone Depth Interviews
Web-Assisted Telephone Interviews
Over 300 physician respondent recruitments in the last year.
A comprehensive service, including the provision of highly experienced moderators in all major Japanese cities.
Appropriate methodologies which fits well with your study objectives.
Examples of what we have achieved;
Quantitative
Study topics
Number of Qualified
Responses
Fielding Time
Hemophilia
130
10 days
Rheumatoid Arthritis
360
7 days
Parkinson's disease
330
5 days
Non-Small Cell Lung Cancer (NSCLC)
200
4 days
Colorectal cancer
200
3 days
Qualitative
| Study topics | Methodologies | Number of Interviews |
| --- | --- | --- |
| EGFR in Non-Small Cell Lung Cancer (NSCLC) | In-Depth Interview | 15 |
| Malignant tumor | Telephone Depth Interview | 12 |
| Glaucoma | Focus Group | 12 |
| Hemophilia | Telephone Depth Interview | 8 |
| Metastatic breast cancer | Telephone Depth Interview | 7 |
Who we are
Largest verified physician panel in Japan
M3, Inc. maintains professional relationships with over 250,000 verified Japanese physicians, which accounts for about 80% of the total physician workforce in Japan. We also have connections to ~120,000 pharmacists, ~80,000 nurses and other healthcare professionals in Japan.
We have healthcare experts ready for quantitative and qualitative research, providing our client's access to the largest healthcare community in Japan. We tailor market-leading, comprehensive solutions to your methodology. With over 15 years' experience building and managing our large panel, along with ISO 26362 certification and compliance, you can rest assured your projects are in the best hands.
Focus on healthcare market research
Since we work solely in healthcare, we have the fastest delivery times and guarantee quality to our clients.
We are trusted by major global pharmaceutical companies, market research companies and consulting firms for whom reliable data, often with a rapid turnaround, is essential for success in the healthcare industry.
Trusted company, endorsed by global brands
We are a Japanese company listed on the 1st section of Tokyo Stock Exchange Market #2413, audited by Pricewaterhouse Coopers.
You can also see how we're performing via Bloomberg - see the details
M3 was named #5 in the Forbes 2017 Most Innovative Growth Companies in the World list - see the details
Our panel
Reliable, relevant data
We give you access to reliable, relevant data, as our panel is closely mapped to, and representative of universe sizes in the following categories:
Facility settings (General Practitioner Vs Hospital Physicians)
Age groups
Specialties
Facility settings (General Practitioner Vs Hospital Physicians)
Split of General Practitioner/ Hospital Physician
※divided by 100 beds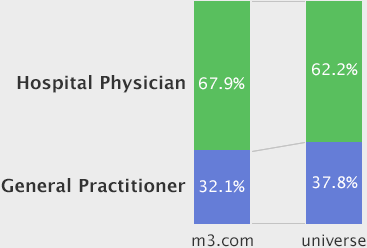 Age groups
Split of age groups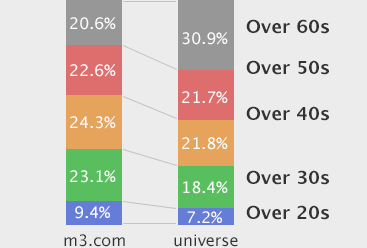 Specialties
IMSurgeonsOrthopedicsPediatricsOphthalmologistsPsychiatristsOBGYNsENTsGastroenterologistsCardiologistsDermatologistsNeurologistsAnesthesiologistsOther


Contact us
In case you cannot proceed to the enquiry form page,
e-mail us to: enquiry-m3-research@m3.com
See Japan healthcare market research tips
M3, Inc.
Akasaka Intercity 10th floor
1-11-44 Akasaka
Minato-ku, Tokyo 107-0052 JAPAN